When we got back together after almost 2 years, I had a pile of almost 40 demos building up. It was time to get busy!
Skeletons: Laying down the Bones
When we discussed making another album, we decided the next release should be a mini album. Something short, raw and fun.
After selecting 8 tracks from the list of 40 odd demos, we headed to the studio and jammed through them. Instantly things came together and we had shaped the demos into complete songs.
Day 1: Drums and Bass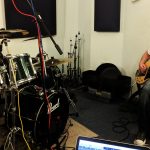 We tried something a little different to our previous recording sessions and tracks the Drums and Bass together. Dave and Lee steam rolled through the rhythm section like beasts.
I remember, for a Drum room mic, we hid the microphone under the sofa at the back of the studio. Added a nice but trashy depth to the drums. For those interested, we used an Aston Origin mic. Same mic we used for lead vocals and acoustics.
For the drum intro to 'Where are you?' we recorded directly onto an a Cassette Talk Boy (As seen in Home Alone 2) This was mixed in with a recording of Robin's (my little boy) heart beat, which I recorded in the hospital only days after he was born. You can hear this in isolation on our teaser video 1/8
Bass was tracked using an old Russian Big Muff, a few Raygun FX pedals and an MXR Bass DI+.
It is proper dirty, and sits in the mix like a 2nd guitar.
Day 2: Guitars!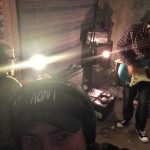 I used my old Orange CR120 amp along with a Strat with a JB humbucker (usually I would only use my Jazzmaster-but this Strat is awesome!) along with a selection of Raygun Fx pedals, (including a Beast Master, Soda Drive & Fuzzbender MkIII) and a Big Muff.
Recording was a simple set up of an SM57 for all the main guitar parts.
The 'telephone' sounding guitars we all done using an awesome mic called the Wasaphone. It sounded so good, we used it on some vocals throughout the album.
We always like to double track the main guitars, sometimes this includes solos. Sometimes it can be a lengthy process but it can sound so good!
Day 3: Vocals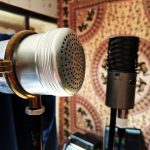 So far, we had mixed things as we had recorded so it was all coming together fast.
As most of these tracks we're demoed, I had the Vocals ready to go, and did 2/3 takes to most songs and cut together the best bits, and then double tracking most the lead and backing Vocals to get them nice and thick sounding.
We use the Wasaphone mic again for a mix of clean/lofi vocals. It's just so much more fun than using plugins to create sounds.
'Skeletons' Available on 10″ Vinyl, CD & Download
Out Fri 27th July 2018 through Instereo Records, 'Skeletons' is now available to order on 10" Vinyl, CD and Download.