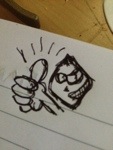 We've had a busy year!
Since the start of 2013 we've been gigging a lot as well as demoing and writing a lot of new tracks for the album. Some songs are complete, some have been scrapped and some of the best riffs have come together in the past couple of weeks.
Tomorrow we have a day booked recording and working on vocals for another bunch of tracks, this is when the song really takes it's character and sometimes where it gets put in the 'to keep' or b-side pile.
I've just found out we made out target on kickstarter! Massive thanks if you contributed. Hopefully we can make this album bigger than we thought?
Time to sleep.
Steve