After taking a couple months break from recording to play some festivals, see Dave get married (Congrats Dave!) watch Back the the Future in an our door cinema and get some perspective on what we had already recorded, we are back on full steam.
Two weeks ago, I gave brought another three song ideas to the table. We thought we had the 11 tracks for the album nailed, so this changes everything. But these ideas have something we are all excited to try out. Within 2 weeks, the songs we're practiced, tweaked and ready to record….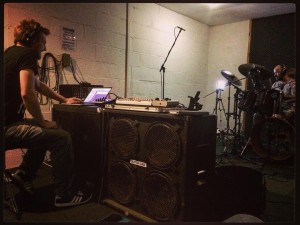 Today, we're back in the studio tracking drums to the three additional ideas and Dave's drumming is on fire! It sounds incredible. It isn't long before he has nailed some great takes for each song and we are listening back. It's almost surreal how quick these have come together.
Next week, we lay down the final guitar and bass parts, leading way for the vocals the week after.
It's so close now, these three new tracks may have put us back a couple of weeks, but it will so worth the delay.
More soon,
Steve