During July, before Skeletons had even hit the shelves, we recorded another 9 tracks from the long list of demos I had built up over the past couple of years.
The tracks recorded were: (all working titles)
Bob goes mould
Moving Waves
Rip & spice
Sad Gary
Sweet
Interlude
Goon Squad
Insomniac (Brainsick)
Skinny Beast
Starting 17th July, we hit the studio once a week tracking these songs over six sessions.
Session 1 – Drums: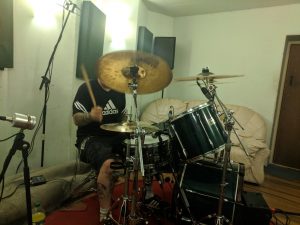 Me and Dave had a productive 4 hour session, he blasted through 9 drum tracks without a sweat. We used that crazy Wasaphone Mic on the side of the kit, it's got a dirty, crunchy sound.
Lee had a re-scheduled Pearl Jam gig to attend to, however his parts would follow next week.
---
Session 2: Bass (Fuzz)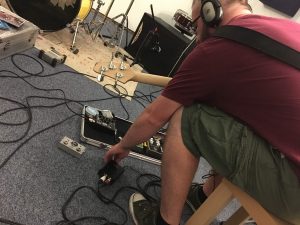 Lee was back and ready to nail some bass lines down.
With a Di Box and 2 cabs hooked up, one being a cheap guitar cab, he slammed through them, even getting some great bits of feedback in 'Bob goes Mould', it sounded like an old Hammond Organ.
---
Session 3 – Main Guitars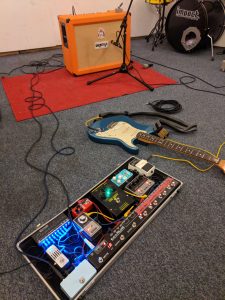 Now we have a chunky rhythm section down, I can make lay some guitars over and start adding some layers.
With my trusted Orange CR120 and Fender Strat plugged into a selection of Fuzzboxes, (inc. Big Muff, Beast Master Deluxe & Soda Drive) we drove through most the main guitar parts pretty fast.
---
Session 4 – Overdubs
After last weeks crammed session, I came back to finish/redo/layer up some parts on my own.
It's all came together pretty fast. Excited to get some vocals on next, we have to finish 2 tracks soon for Cassette store Day.
---
Session 5 & 6 – Vocals.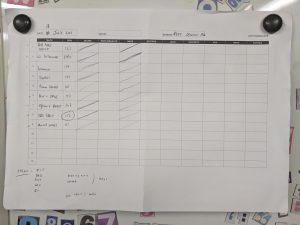 With the deadline for Cassette Store day coming fast, we tracked the two we have in mind for the release first (Moving waves & Brainsick), and then through some of the other songs.
For Session 6 I came down on my own. It was cool to hear the other guys reaction to the vocals I had put down.
This is coming together nicely, although we aren't sure when/how it will be released yet.
More ramblings soon.
Steve