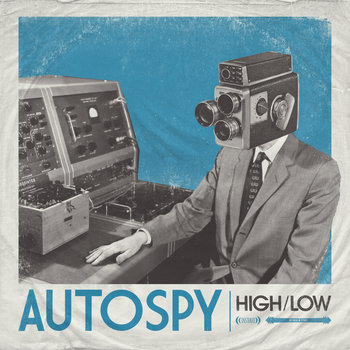 Fuzzy grunge lovers HIGH/LOW return with their 2nd, self-produced album, 'AUTOSPY'
With their DIY ethos, they recorded and mixed the album themselves, they created all the artwork, music videos and even built their own FX pedals.
'AUTOSPY' is the bands first recording as a full band with new drummer Dave Pankhurst. All previous releases were recorded by Guitarist/Vocals Steve Weston and Bassist Lee Yates.
The new album blends the familiar HIGH/LOW sounds of loud guitars, bass fuzz, energy and harmonies with more dynamics, a fuller sound and a push in both the lighter and darker directions.
From 4th December 2015, you can pre-order the album and download the first single 'Mould', instantly! - Cassettes, CDs & Very limited edition Vinyl will be available for pre-order.
Credits:
All music written, recorded
by HIGH/LOW:
Steve Weston - Guitars, Vocals
Lee Yates - Bass Fuzz
Dave Pankhurst - Drums
www.wearehighlow.co.uk
Recorded at LOFI Studios
(c) 2015/2016 High/Low
Published by instereo records
www.instereorecords.co.uk
HIGH/LOW USE RAYGUN FX PEDALS
www.fuzzboxes.co.uk